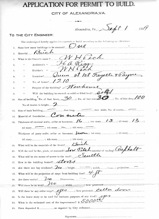 1210 Queen Street
was built in 1910 by William Peck, a prominent Alexandria merchant and real estate developer. Listed as a  "warehouse" on the original building permit, the structure was probably built to serve Peck's private business interests, which included retail groceries, wood and coal, as well as Alexandria's active railroad corridor which bisected the city at Fayette and Henry Streets and was serviced by a large roundhouse a block away.
When Peck died suddenly in 1913, his estate leased the building to the Alexandria Laundry which operated a commercial steam laundry there until 1939. In 1940 the property was bought by the adjacent Southern Dry Cleaning. Walter Smith of Smith Transfer and Storage acquired 1210 Queen in 1942, reverting it back to its original use as a warehouse.
In 1960, the building was sold to the Harris Masonic Memorial Association, to be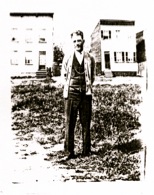 used, presumably, as a
meeting hall. Alexandria City Directories however, list the property as "vacant" for the Mason's entire 15 year ownership, and by 1975, when it was bought by local developer Richard Kellogg, its roof and much of the second floor had collapsed.
Kellogg restored the building as a woodworking shop and artist/artisan lofts. R.I. Kellogg & Daughters sold the building four years later to attorneys Yvonne Weight and William Gifford. Longtime tenants from the period 1975 to 2005 included Cub Run Builders, Classic Glass, painters Jack McQuestin & Elizabeth Held, stained glass maker Sally Avingone, and a host of other cabinet makers, architects, artists and designers.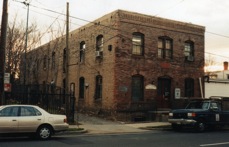 Alexandria builder and developer William Cromley bought the building in 2004. In 2007 he completed a restoration of the building and added a third story addition to create Cromley Lofts, an eight unit residential condominium.